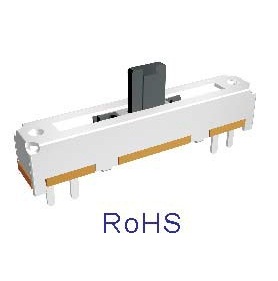 Operating Direction
Horizontal
Specification
Document download

Introdution
1.Carbon element.
2.Microminiature type.
3.PCB base plate with copper.
Electrical characteristics
Total Resistance
500Ω~1MΩ
Total Resistance Tolerance
± 20%
Resistance Taper
A, B, C, D etc.
Withstand Voltage
5mm~15mm: 1 minute at AC 100V; 20mm: 1 Minute at AC 250V
Insulated Resistance
5mm~15mm: More than 50MΩat DC 100V; 20mm: More than 50MΩat DC 250V Sliding Noise; Less than 100mV
Residual Resistance
Term.1~2: Less than 10Ω; Term.2~3: Less than 10Ω
Gang Error (Dual Unit)
- 40dB~0dB±3dB
Rated Voltage
B Taper: 50V~200V
Rated Power (Single Unit/Dual Unit)
0.01W~0.05W
Mechanical characteristics
Stopper Strength
2.5Kgf Min (from the base level to a point of 2 mm)
Level Wobble
2 (2XL)/25mm Max (L: Level length both sides)
Level Push-Pull Strength
1.0Kgf Min at 10Sec.
Rotational Life
5,000 Cycles Min