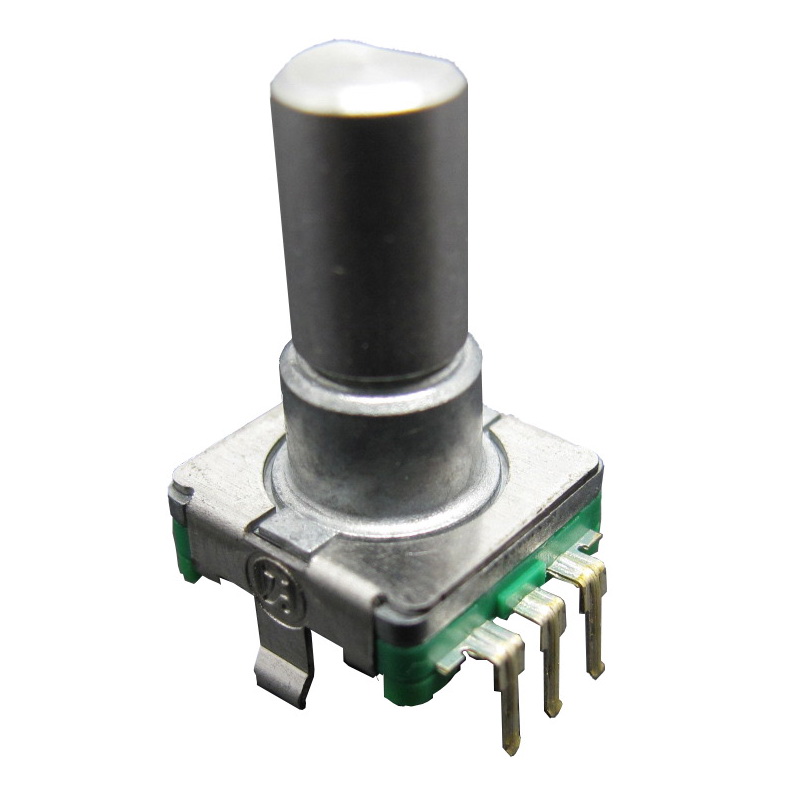 Operating Direction
Horizontal Vertical
Specification
Document download

Introdution
1.Compact and highly accurate sliding contact type encoder
2.0.5mm travel push switch with compliance to 4.5mm height
3.incremental type
Electrical characteristics
Insulation Resistance
More than 100MΩ at DC250V, 1mA.
Resolution
Each output channel 15 pulses/360°
Mechanical characteristics
Number and Position of Detents
30 detents(Step angle:12°±3°)
Push-pull Strength of Shaft
Shaft play in axial direction
Rotation Play at the Click Position
Endurance characteristics
Dry Heat
85±3°C for 240±1Ohr.
Damp Heat
-40±2°C, 90-95% RH, 240±1Ohr.
Resistance to Soldering Heat
Dip soldering: preheat within 100°C for 2Min; soldering Temp. is 260±5°C for 5 sec. Manual Solderin
Contact Resistance
100 mΩ Max. at 5V DC, 1 mA.
Operating Force
6+2.5/-2N (610+255/-200 gf)
Insulation Resistance
More than 100mΩ at DC250V, 1mA