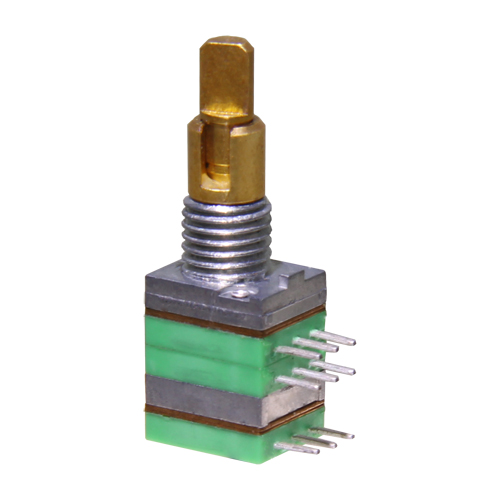 Operating Direction
Vertical
Specification
Document download

Introdution
F082 Series
Metal shaft Potentiometer

1.Flux builded-up prevention is taken through inserting molding around the resistorwith resin.
2.A large variety of products lined up to support various applications.
3.Dual Shaft and miniature design for audio applications.
4.Long Life Type Available.
Electrical characteristics
Resistance Tolerance
500
Ω<R<1MΩ:±20% R≦500Ω or R≧1MΩ:±30%
Max. Operating Voltage
AC 50V, DC 10V
Rotational Noise
100 mV Max
Insulation Resistance
Less than 100MΩ at DC 250V
Withstand Voltage
1 minute at AC 300V
Residual Resistance
50Ω Max
Gang Error (Dual Unit or Multi-unit)
-40db~Odb±3db
Mechanical characteristics
Detent
1(Center) detent, 11 detents
Total Rotational Angle
300°±1O°
Push-Pull Strength
Pull: 10Kgf Min; Push: 10Kgf Min at 10sec
Rotational Torque
20-200gf.cm
Stopper Strength
3.0Kgf.cm Min
Detent Torque
20 ~ 250gf.cm
Bushing nut tighten Strength
10.0Kgf.cm
Rotational Life
Standard life: 30,000 Cycles Min.; Long life: 100,000 Cycles Min.
Cold Test
-20±2°C for 96 hours. △TR< ±15%
Dry Heat
70±2°C for 96 hours. △TR< ±15%
Temperature Cycle
-20~+70°C, 5 cycles. △TR< ±15%
Soldering Condition
Solder dip: 260±5°C 5 Sec; Manual Soldering: 350°C±10°C 3 Sec
Rated Power
3.0A at DC 16V
Contact Resistance
Less than 50mΩ
Switch Torque
50~250gf.cm
Switch Life
25,000 cycles at without load