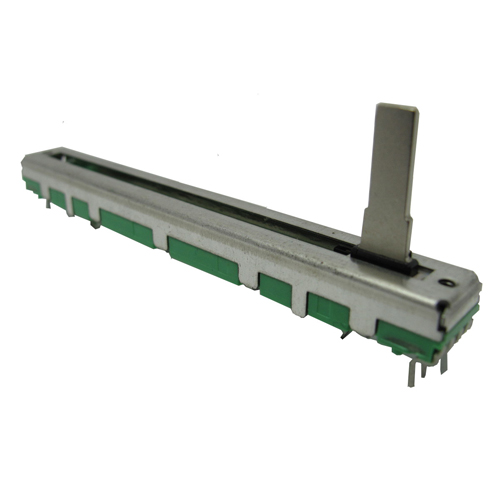 Operating Direction
Horizontal
Specification
Document download

Introdution
1.Metal housing.
2.Dust cover option.
3.Available in red green and yellow LED colors.
4.Center detent option.
Electrical characteristics
Total Resistance Tolerance
Insulated Resistance
More than 100MΩ at DC 250V
Residual Resistance
20mm: Term.1~2: Less than 10Ω; Term.2~3: Less than 20Ω;30mm, 45mm, 60mm:Term.1~2: Less than 10Ω; Term.2~3: Less than 30Ω
Gang Error (Dual Unit)
-40dB~0dB±3dB
Linear Taper B:15mm:AC 100V; 20mm,30mm,45mm,60mm:AC 200V; Other Tapers:15mm:AC 50V; 20mm,30mm,45mm,
Rated Power (Single Unit/Dual gangs)
Linear B Taper: 15mm:0.05W/0.025W,20mm:0.1W/0.05W, 30mm:0.2W/0.1W,45mm:0.25W/0.125W, 60mm:0.2W/0.2W
Mechanical characteristics
Stopper Strength
5.0Kgf Min (from the base level to a point of 2mm)
Detent Torque (only center click)
50gf~200gf
Level Wobble
2(2xL)/20mm Max. (L: Level length both sides)
Sliding Life
Standard life: 15,000 Cycles Min.; Long life: 100,000 Cycles Min.